The following instructions apply to Windows Vista.

For Windows XP click here:
Instructions for Windows XP

Installing a Musical Vision™ sequence from a USB Flash Drive is easy.
Plug the flash drive into an empty USB port on your computer.
It should start running automatically. If you are using Windows Vista you may see a prompt similar to this one: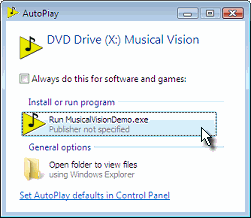 Select the Install or run program option as shown.